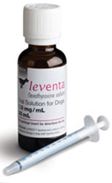 For treatment of hypothyroidism in dogs
Leventa®
Active Ingredients
Contains Levothyroxine sodium 1mg/mL oral solution for dogs.
Indications
Treatment of hypothyroidism in dogs.
Dosage and administration
A starting dose rate of 20 micrograms levothyroxine sodium /kg (0.2 mL/10 kg bodyweight) once daily is recommended.
A maintenance dose rate between 10 and 40 micrograms/kg bodyweight (0.1 – 0.4mL/10kg B.W.) once-daily is generally sufficient.
The dosage suitable to treat your dog is decided by your prescribing veterinarian. Depending on the dosage and the bodyweight of the dog, the volume (in mL) of the product to be administered once-daily can be calculated using the following table.
Body weight (kg)
Dosage (micrograms/kg)
10
20
30
40
Volume of the product (mL)
5
0.05
0.10
0.15
0.20
10
0.10
0.20
0.30
0.40
15
0.15
0.30
0.45
0.60
20
0.20
0.40
0.60
0.80
25
0.25
0.50
0.75
1.00
30
0.30
0.60
0.90
1.20
35
0.35
0.70
1.05
1.40
40
0.40
0.80
1.20
1.60
45
0.45
0.90
1.35
1.80
50
0.50
1.00
1.50
2.00
Refer to label for full dosage information
---
ACVM No: A10426
AVAILABLE ONLY UNDER VETERINARY AUTHORISATION
Additional Information
Pack Size: 30 mL
Bar Code: 9 415116 043031

Further Details