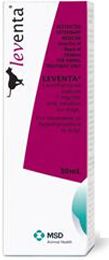 For treatment of hypothyroidism in dogs
Leventa® is the once-daily solution for treatment of canine hypothyroidism.

Before Leventa, the only treatment option for this condition has been a twice­-daily tablet – now treatment is more convenient for the dog owner and more palatable for the hypothyroid dog.
Canine hypothyroidism causes a slowing of the metabolism due to a deficiency of thyroid hormone. In hypothyroidism, there is too little thyroid hormone, resulting in changes in metabolism and many organ systems.
The disease is more commonly diagnosed in a number of breeds including: Golden Retriever, Doberman Pinscher, Greyhound, Irish Setter, Dachshund, Cocker Spaniel, Airedale Terrier and Boxer.
Dogs between the ages of two and six years of age are more commonly affected. Hypothyroidism impacts male and female dogs in equal numbers.
The hypothyroid dog tends to be lethargic or sluggish, sleepy and reluctant to go for walks. Hypothyroid dogs tend to gain weight even though their diet has remained the same.
Some dogs become more sensitive to the cold and will lie close to heating to stay warm. Hypothyroid dogs also tend to shed excessively but the lost hairs do not regrow. These signs may be missed or attributed to the normal aging process. If your dog shows any of these signs, ask your veterinarian about hypothyroidism and once-daily treatment with Leventa.
Leventa may be given either in the morning or evening; it is important to give the treatment at the same time every day. Follow up evaluation with your veterinarian will be necessary, to ensure your dog is responding appropriately to treatment.
---
AVAILABLE ONLY UNDER VETERINARY AUTHORISATION