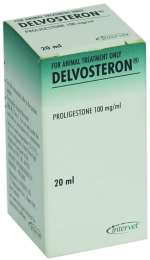 A ready to use aqueous sterile injectable suspension of proligestone for dogs and cats.
Active Ingredients
Contains 100mg proligestone/mL.

Indications
For the delay and suppression of oestrus in dogs and cats, treatment of e.g. pseudopregnancy; abnormal lactation; nymphomania and satyriasis and for use in the treatment of some forms of miliary dermatitis in cats.
Dosage
For full details of dosage and administration recommendations, refer to the Delvosterson label below.
Warnings
Although Delvosteron may be used to medicate bitches at the time of their first oestrus, this regime is not normally recommended. Use before a bitch's first oestrus is not advised.
---
ACVM No: A4103
AVAILABLE ONLY UNDER VETERINARY AUTHORISATION.

Additional Information
Pack Size: 20mL
Bar Code: 9 421005 401721