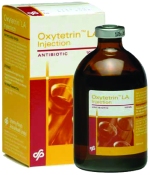 Oxytetrin® LA Injection
Injectable antibiotic for sheep, beef, dairy and swine.

Active Ingredients
Oxytetracycline 200mg per mL

Indications
For the treatment and control of a wide range of common systemic, respiratory and local infections caused by or associated with organisms sensitive to oxytetracycline in cattle, sheep and pigs. Following intramuscular injection persistent blood levels are provided for up to three days. Peak antibacterial levels are achieved in four to eight hours. Oxytetrin LA injection is therefore suitable for the treatment of acute infections.
Dosage
Pigs over 21 days, Cattle and Sheep: 1mL/10kg bodyweight deep i/m (20mg/kg)
Piglets under 21 days:
Up to 1 day 0.2mL
1 to 7 days 0.3mL
7 to 14 days 0.4mL
14 to 21 days 0.5mL
Withholding Period
Milk: Cattle – 7 days. Do not treat more than one-third of the milking herd in any 7 day period.
Sheep and goats – 35 days
Meat: 28 days

Not for use in bobby calves.
AVCM No: A5113
AVAILABLE ONLY UNDER VETERINARY AUTHORISATION

Additional Information
Pack Size: 100 mL
Bar Code: 9 400560 438267

Further Details