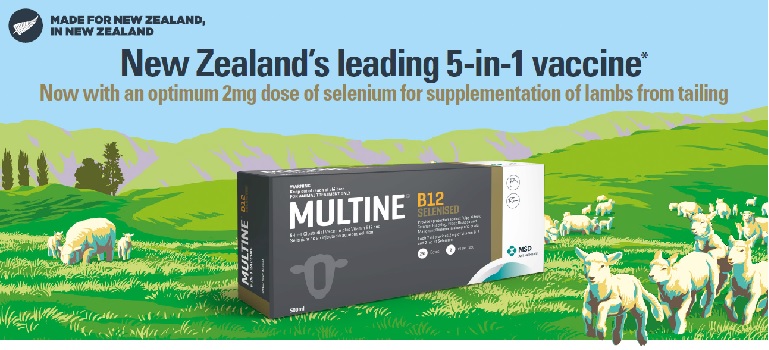 Why Selenium is used.
Approximately 30% of pastures in New Zealand will not provide adequate Selenium intake for grazing livestock.
Selenium deficiency causes:

White Muscle Disease
Weaner ill-thrift
Lowered wool production
Ewe infertility
Scouring
Poor lamb growth rates.
Why 2mg is an optimum dose for lambs from tailing.
Lambs vary in age and weight at tailing, but trials show the majority of NZ lambs weigh in excess of 10kg by 4 weeks of age.1-2
The recommended dose rate for selenium supplementation from tailing is 0.1-0.2 mg Se/kg liveweight.3
The 2mg dose of selenium in Multine® B12 Selenised provides an optimum dose for all lambs 10-20kg in weight.4-6
2mg of selenium is well tolerated, and has been used to protect tens of millions of NZ lambs at tailing with Lamb Vaccine Selenised, for over 50 years.
1 Muir et al (2003) Proceedings of the New Zealand Grassland Association 65: 61-63
2 Litherland et al (2000) Proceedings of the New Zealand Society of Animal Production 60: 55-57
3 Suttle , N.F and Underwood, E.J. (1999) The mineral nutrition of livestock. 3rd ed, 451-453
4 Grace, N.D. (2002) Proceedings of the New Zealand Society of Animal Production 62: 311-314
5 West D, Bruere N and Ridler A (2009). "The Sheep, Health, Disease and Production" textbook. p138
6 Beef and Lamb NZ Trace Element Nutrition of Sheep Fact Sheet March 2020
*Baron Audit Data, June 2021