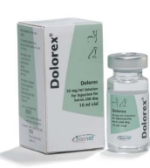 Injectable analgesic for horses.
When equine pain strikes, manage it with Dolorex, the veterinary-registered butorphanol solution specifically for horses.
Dolorex is an opioid analgesic which is free of morphine-like side-effects.
It won't mask clinical signs of colic, contributing to faster and more accurate diagnoses. Good pain management is always the best medicine.
For outstanding control of equine pain, reach for Dolorex.
---
AVAILABLE ONLY UNDER VETERINARY AUTHORISATION