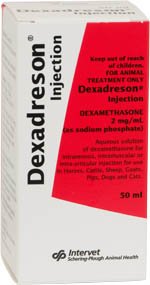 Injectable solution for short acting systemic corticosteroid therapy. Has powerful anti-inflammatory, anti-shock/stress and gluconeogenic activity.
Dexadreson contains dexamethasone disodium phosphate. Dexadreson is a short acting glucocorticoid used in the management of acute inflammation and allergic reactions in cattle, horses, pigs, dogs and cats as well as ketosis in cattle.
Dexadreson has strong anti-inflammatory action, addressing inflammation and allergic reactions that potentially threaten the life of the animal or notably compromise the animal's well-being and/or productivity.
---
AVAILABLE ONLY UNDER VETERINARY AUTHORISATION