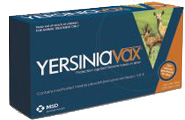 Protection against Yersinia losses in deer.
Yersiniosis vaccine for deer.

Active Ingredients
Contains inactivated Yersinia pseudotuberculosis serotypes I, II, III.

Indications
For the immunisation of deer against yersiniosis.
Dosage
2mL dose by subcutaneous injection into the anterior (front) half of the neck.
Two doses, 3 – 6 weeks apart. Vaccination should be completed 2 weeks before disease risk period
Withholding Period
Deer should not be submitted for slaughter prior to vaccination lesions subsiding.

---
ACVM NO: A6151
AVAILABLE ONLY UNDER VETERINARY AUTHORISATION

Additional Information
Pack Size: 100mL (50 doses)
Bar Code: 9 421018 390029
Further Details