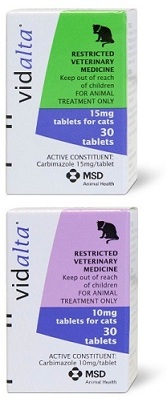 For the treatment of hyperthyroidism and hyperthyroidism-associated
clinical signs in cats.
From Gurrrrrr…..back to Purrrrr
Hyperthyroidism is the most common endocrinopathy in cats, affecting as many as 1 in 300 cats. It is an insidious, progressive disease mainly seen in middle-aged to older cats. Subtle changes in appetite, condition or behaviour may not be noticed immediately. But as the disease progresses, owners become aware of a change in personality as their pet becomes hyperactive or grumpy, with increases in appetite and thirst—akin to a tiger rather than the delightful cat they are accustomed to.
Until now, hyperthyroid cats needed to be treated with tablets two or even three times daily, making treatment even more of a challenge.
Vidalta is the first prolonged-release formulation of carbimazole and offers genuine once-daily dosing. There is a rapid and long-term improvement in hyperthyroid cats treated with Vidalta. Tablets should be administered at the same time every day. Vidalta tablets may be given with or without food as long as this is consistent from day to day.
If you are concerned about your cat, talk to your veterinary professional about feline hyperthyroidism and Vidalta.

---
ACVM No: A10622
AVAILABLE ONLY UNDER VETERINARY AUTHORISATION