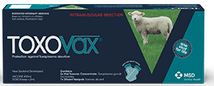 Single dose lifetime protection against Toxoplasmosis.
Toxoplasmosis vaccine for sheep (breeding ewes)

Active Ingredients
Contains a suspension of live organisms of an attenuated strain of Toxoplasma gondii (Strain 48).

Indications
For the immunisation of ewes against abortion caused by infection with naturally occuring T. gondii.
Dosage
2mL dose by intramuscular injection into the anterior (front) half of the neck.
Only one injection is required for lifetime protection.
Vaccination should be completed at least 4 weeks before tupping.

Withholding Period
Nil.
---
ACVM No: A4769
AVAILABLE ONLY UNDER VETERINARY AUTHORISATION
Additional Information
Short shelf-life (10 days). Seasonally available.
Pack Size: 100 dose (200mL)
Bar Code: 9 421018 390012

Pack Size: 200 dose (400mL)
Bar Code: 9 421018 390098
Further Details
Visit the MSD Animal Health Sheep Vaccines website for more information on Toxovax