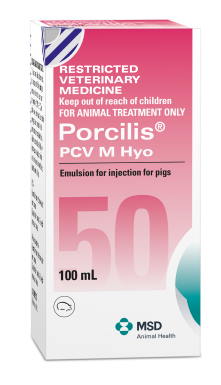 Emulsion for injection for pigs
Active Ingredients
A combination porcine circovirus type 2 (PCV2) ORF 2 subunit antigen and Mycoplasma hyopneumoniae J strain inactivated vaccine for pigs. This formulation is inactivated, adjuvanted and presented as an emulsion for injection.
Indications
For the active immunisation of pigs against PCV2 infection.
To reduce PCV2 associated viraemia, virus load in lungs, tonsils and lymphoid tissues. To reduce faecal and nasal virus shedding caused by porcine circovirus type 2 (PCV2) infection, and thereby minimise environmental contamination.
To aid in the prevention of enzootic pneumonia of swine caused by Mycoplasma hyopneumoniae demonstrated by:

– Reduction of the severity of lung lesions caused by Mycoplasma hyopneumoniae infection

and

– Reduction of weight loss associated with infection with Mycoplasma hyopneumoniae in the finishing period.
Dosage
The vaccine is a liquid and ready to use product. Before using the vaccine, allow it to reach room temperature (15-25°C) and shake well before use. Use sterile syringes and needles. Avoid introduction of contamination.
2mL dose by intramuscular injection.
One dose in the neck area behind the ear, from 3 weeks of age.
Withholding Period
Nil
---
ACVM No: A011423.
AVAILABLE ONLY UNDER VETERINARY AUTHORISATION
Additional Information
Pack Size (Doses): 100mL (50 doses)
Bar Code: 9 415116 043802