Piliguard® Pinkeye-1 Trivalent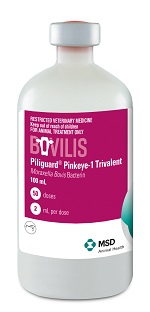 Vaccine for aid in the prevention of Pinkeye in cattle.
Pinkeye vaccine for beef, dairy
Active Ingredients
Contains inactivated cultures of Moraxella bovis

Indications
For use in healthy cattle to aid in the control of pinkeye associated with infection by Moraxella bovis strains expressing pili similar to those expressed by isolates referred to as strains EPP 63, FLA64, and SAH38.
Dosage
Inject 2mL intramuscular into the anterior neck 3 to 6 weeks prior to onset of pinkeye season.
Withholding Period
Milk: Nil
Meat: Nil
---
ACVM No: A8192
AVAILABLE ONLY UNDER VETERINARY AUTHORISATION

Additional Information
Pack Size: 100 mL

Further Details
Visit the Bovilis website for more information on Piliguard Pinkeye-1 Trivalent