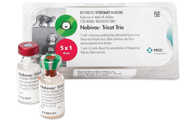 Injectable live vaccine for cats containing attenuated feline panleucopaenia virus (MW-1), feline herpesvirus and feline calicivirus.
Active Ingredients
A live attenuated freeze dried vaccine containing feline herpes virus type 1 (rhinotracheitis), feline calicivirus and feline panleucopaenia virus (MW-1).


Indications
For the active immunisation of cats against feline panleucopaenia virus (FPLV), feline herpes virus (FHV) and feline calicivirus (FCV). Vaccination will reduce clinical signs caused by infection with FHV and FCV; reduce replication of FCV, and prevent shedding of FPLV.
The duration of immunity is 3 years for the FCV, FHV and FPLV components, as confirmed by challenge study.
Dosage
The contents of one vial of reconstituted vaccine should be injected subcutaneously. Reconstitute immediately prior to use by addition of one vial of Nobivac Diluent.
For an initial vaccination, two doses are required, at an interval of 3 to 4 weeks. The first inoculation is given from the age of 8-9 weeks and the second inoculation from the age of 12 weeks. If earlier vaccination if desirable or necessary, vaccination is appropriate from 6 weeks of age onwards, but should be followed by the normal vaccination scheme at 8-9 and 12 weeks of age.
Revaccination
A single dose. Recommended revaccination following initial programme:
FCV, FHV and FPLV revaccinate three-yearly.
For cats exposed to high-risk environments, annual revaccination should be considered.
---
ACVM No: A10164
AVAILABLE ONLY UNDER VETERINARY AUTHORISATION

Additional Information
Pack Sizes: 5 doses + diluent and 25 doses + diluent