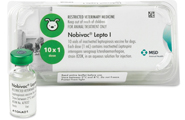 Injectable inactivated vaccine for dogs containing Leptospira interrogans Serovar Icterohaemorrhagiae to stimulate immunity against Serovar Copenhageni.
Active Ingredients
A liquid vaccine prepared from inactivated Leptospira interrogans, Icterohaemorrhagiae, strain 820k.

Indications
For the active immunisation against leptospirosis in dogs caused by Leptospira interrogans serovar Copenhageni.
The puppy programme can be completed from 10 weeks of age.
The components of Nobivac Lepto I have been shown to protect against leptospirosis for at least 12 months. Annual revaccination is recommended.
Nobivac Lepto I can be used in pregnant bitches.
Dosage
Use the contents of a single dose vial and administer by subcutaneous injection.

Primary immunisation: Puppies should be at least 6 weeks old at time of first vaccination. Dogs and puppies should receive 2 doses, 2-4 weeks apart.

Annual revaccination: A single dose is recommended.
Nobivac Lepto I can be used to reconstitute Nobivac canine vaccines only:
---
ACVM No: A7832
AVAILABLE ONLY UNDER VETERINARY AUTHORISATION
Additional Information
Pack Size: 10 x 1 dose