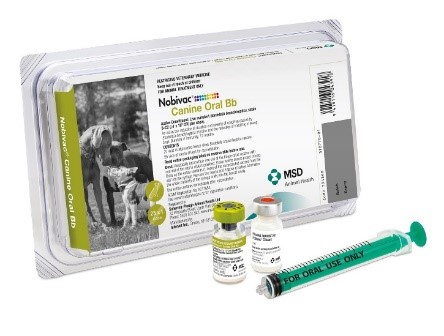 Live vaccine for dogs containing attenuated Bordetella bronchiseptica for oral dosing.
Active Ingredients
A live attenuated freeze-dried vaccine containing Bordetella bronchiseptica.
Indications
For the active immunisation of dogs against B. bronchiseptica, an important pathogen in the canine cough complex, aiding in the reduction of duration and severity of coughing caused by B.bronchiseptica and the reduction of shedding in young dogs.
• Provides immunity against B.bronchiseptica
• Administer orally into the buccal cavity, ideal for dogs that don't accept intranasal vaccination
• 12 months duration of immunity following a single dose
• Can be used from 7 weeks of age
Dosage
Reconstitute one vial of the freeze-dried vaccine with one vial of the sterile diluent provided. Remove the needle and dispose of safely. Administer orally into the buccal cavity.
---
ACVM No: A011653
AVAILABLE ONLY UNDER VETERINARY AUTHORISATION
Additional Information
25 dose pack + diluent + 25 'oral' syringes