COOPERS ZENITH® Concentrate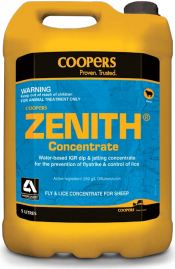 Fly & lice concentrate for sheep.
ZENITH Concentrate is a water-based IGR (insect growth regulator) dip & jetting concentrate for the prevention of flystrike & control of lice.
Active Ingredients
Diflubenzuron 250g/L

Indications
For the prevention of blowfly strike and the control of lice by plunge dip, shower dip or jetting.
Provides up to 12 weeks fly control and 20 weeks lice control.
Dosage
FLY STRIKE CONTROL
150mL/100L Plunge/shower dip
250mL/100L Jetting
LICE CONTROL
150mL/100L Plunge/shower dip/jetting
Withholding Period
Meat: Nil
Milk: 35 days

Wool Harvest Interval: 60 days
---
ACVM No: A6102
Additional Information
Pack Size: 5L
Bar Code: 9 421005 400014
Pack Size: 10L
Bar Code: 9 415116 043062
Further Details
Visit the Coopers Animal Health NZ website for more information on Zenith® Concentrate