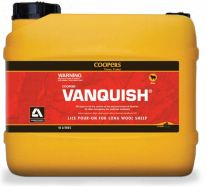 A synthetic pyrethroid pour-on that controls lice on sheep. VANQUISH provides 22 weeks protection against lice re-infestation. Suitable for all wool types (including fine wool). VANQUISH can be used as a long-wool emergency lice treatment. VANQUISH contains 50g/L alpha-cypermethrin. Available in 10L.
Lice pour-on for long wool sheep.
Active Ingredients
Alpha-cypermethrin 50g/L
Indications
For 20 weeks lice control and 22 weeks protection against re-infestation. For prevention of flystrike for up to 6 weeks.
Best practice lice control is off-shears.
Dosage
Lice Control:
All Breeds:
Adult Sheep
0-4 mths wool: 10mL
4-6 mths wool: 15mL
6-10 mths wool: 20mL
Lambs
0 -2 mths wool: 5mL
2 – 6 mths wool: 10mL
6 – 10 mths wool: 20mL

Fly Control
Ewes: Crutch: 10mL Back: 10mL
Lambs: Crutch: 7.5mL Back: 7.5mL
Withholding Period
Meat: 7 days
Milk: 35 days
Wool Harvest interval: 60 days
---
ACVM No: A5997
Additional Information
Pack Size: 10 Litre
Bar Code: 9 415116 042690
Further Details
Visit the Coopers Animal Health NZ website for more information on Vanquish®