COOPERS SCANDA® Selenised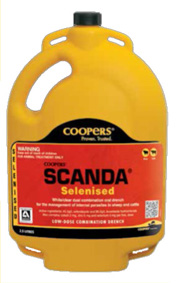 COOPERS SCANDA Selenised is a BZ/clear dual combination oral drench for the management of internal parasites in sheep & cattle
A low-dose combination oral drench with added selenium.
Active Ingredients
80g/L Levamisole Hydrochloride (HCl); 45.3g/L Oxfendazole. Also contains Cobalt 0.4mg/mL, Zinc 1.2mg/mL and Selenium 1mg/mL

Indications
At the recommended dosage level, this product is effective for the treatment and control of benzimidazole and levamisole sensitive parasites of sheep and cattle
Dosage
Sheep: 1mL/10kg Liveweight
Cattle: 1mL/10kg Liveweight
Withholding Period
Meat: 10 days
Milk: Cattle 144 hours; Sheep 35 days
Caution
Do not use in lambs under 20kg liveweight or calves under 50kg liveweight.
Do not use with milk or milk-feeders or while calves are suckling.
---
AVCM No: A7368
Additional Information
Pack Size: 20 Litre
Bar Code: 9 415116 042898
Pack Size: 10 Litre
Bar Code: 9 415116 041839
Pack Size: 2.5 Litre
Bar Code: 9 415116 042652
Further Details
Visit the Coopers Animal Health NZ website for more information on Scanda Selenised®