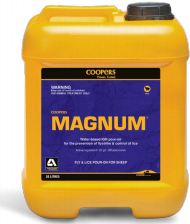 MAGNUM is a water-based IGR (insect growth regulator) pour-on for the prevention of flystrike & control of lice
Fly & lice pour-on for sheep.
Active Ingredients
Diflubenzuron 25g/L

Indications
For control of body lice and protection against blowfly strike on sheep, including lice resistant to synthetic pyrethroids and flies resistant to organophosphates.
Minimum of 8 weeks fly control.
Best practice lice control is off-shears.
Dosage
Lice:
5 mL/10kg

Fly:
Docking/tailing: crutch 17mL
Under 35kg: back and crutch 34mL
Over 35kg: back and crutch 51mL
Withholding Period
Meat: Nil
Milk: 35 days

Wool Harvest Interval: 60 days
---
ACVM No: A7704

Additional Information
Pack Size: 2.5 Litre
Bar Code: 9 415116 042317
Pack Size: 20 Litre
Bar Code: 9 415116 042331
Further Details
Visit the Coopers Animal Health NZ website for more information on Magnum®