BRAVECTO® SPOT-ON FOR CATS
Bravecto is available as a spot-on* flea and tick treatment for cats – providing 3 months protection.
Active Ingredients
Bravecto contains fluralaner.
Indications

For the control of flea and tick infestations on cats for 3 months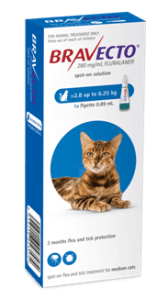 Treats and controls existing flea and tick infestations
Sustained control of new flea and tick infestations
Part of a treatment strategy for the control of flea allergy dermatitis
Highly effective against fipronil resistant fleas
Dosage
Bravecto spot-on* solution should be administered in accordance with the following table (corresponding to a dose of 40 – 94 mg fluralaner/kg body weight):

*For use in cats from 11 weeks of age and over 1.2kg.
For optimal control of tick and flea infestation, the Bravecto spot-on* should be administered at 3 monthly intervals. Bravecto spot-on* can be administered all year round.
* Registered as Bravecto spot-on solution ACVM No: A11261.
---
ACVM No: A11261
Additional Information
Pack Sizes:
1 x single dose packs
Further Details