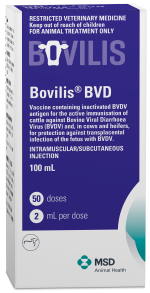 Inactivated vaccine for protection against infection with Bovine Viral Diarrhoea Virus (BVD) in cattle and the foetus.
Bovine Viral Diarrhoea (BVD) vaccine for cattle.

Active Ingredients
An inactivated vaccine containing cytopathogenic BVD virus strain C86.

Indications
For the active immunisation of cattle against Bovine Viral Diarrhoea Virus (BVDV) and, in cows and heifers, for protection against transplacental infection of the foetus with BVDV.

Dosage
2mL dose by i/m or s/c injection.
Two doses, 4 weeks to 6 months apart are required in the first year, with an annual booster in subsequent years.
Vaccination should be completed 4 weeks before mating. Calves can be vaccined from 4 months of age. (see label below for full recommended vaccination programme)
Withholding Period
Nil.
---
ACVM No: A8237
AVAILABLE ONLY UNDER VETERINARY AUTHORISATION
Additional Information
Pack Size: 20mL (10 doses), 50mL (25 doses) & 100mL (50 doses)
Further Details
Visit the Bovilis website for more information on Bovilis BVD